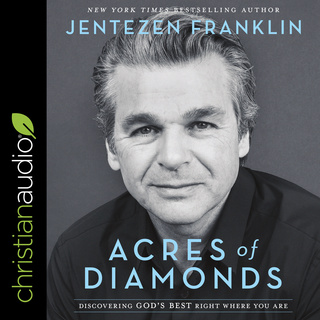 Acres of Diamonds: Discovering God's Best Right Where You Are
Acres of Diamonds: Discovering God's Best Right Where You Are
Are you in a season of life where every search for direction, encouragement, or fulfillment seems to come up empty? You thought God had you in a place to thrive and grow, but you are ready to call it quits. There has to be something better.

You don't need a new garden; you just need to learn how to dig! In Acres of Diamonds, pastor and New York Times bestselling author Jentezen Franklin helps you discover the unfathomable riches Jesus Christ has for you. Rather than chase after a better life, you can celebrate the untold spiritual provision to be found even in the midst of spiritual deprivation. Listeners will learn to cherish where God has placed them as they uncover the hidden potential within their families, jobs, ministries, and communities … right where they are.
More information about the audiobook:
Always have a good book lined up - Listen and read whenever you want
Read and listen to as many books as you like! Download books offline, listen to several books continuously, choose stories for your kids, or try out a book that you didn't thought you would like to listen to. The best book experience you'd ever had.
Free trial for 14 days