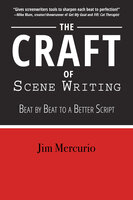 The Craft of Scene Writing: Beat by Beat to a Better Script
٠
٠
5
المؤلف:

Jim Mercurio
الكتاب الإليكتروني.
A professional screenwriter's master class in writing the most critical and challenging script element―the individual scene.
اللغة: اللغة الإنجليزية
التصنيف:

اللغات
مترجم:
مزيد من المعلومات حول هذا الكتاب الإلكتروني
دار النشر: Quill Driver Books
تاريخ الإصدار: 2019-02-01
ISBN رقم: 9781610353465
احتفظ دائمًا بكتاب جيد برفقتك كي تستمع وتقرأ متى شئت وأينما تريد
اقرأ واستمع إلى أي عدد تريده من الكتب! حمّل الكتب بدون الاتصال بالانترنت، واستمع إلى العديد من الكتب باستمرار، واختر قصصًا لأطفالك، أو جرب كتابًا جديدًا واستمتع بأفضل تجربة مررت بها على الإطلاق.
تجربة مجانية لمدة ١٤ يوم