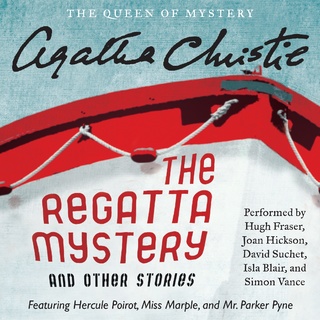 The Regatta Mystery and Other Stories
The Regatta Mystery and Other Stories
Hercule Poirot, Miss Marple, and Christie's wildly unconventional investigator, Parker Pyne, all make appearances in The Regatta Mystery and Other Stories—a riveting collection of short stories featuring a host of murderous crimes of passion, pleasure, and profit.

There's a body in a trunk; a dead girl's reflection is caught in a mirror; and one corpse is back from the grave, while another is envisioned in the recurring nightmare of a terrified eccentric. What's behind such ghastly misdeeds? Try money, revenge, passion, and pleasure. With multiple motives, multiple victims, and multiple suspects, it's going to take a multitude of talent to solve these clever crimes.

In this inviting collection, Agatha Christie enlists the services of her finest—Hercule Poirot, Miss Marple, and Parker Pyne—and puts them each to the test in the most challenging cases of their careers.
More information about the audiobook:
Always have a good book lined up - Listen and read whenever you want
Read and listen to as many books as you like! Download books offline, listen to several books continuously, choose stories for your kids, or try out a book that you didn't thought you would like to listen to. The best book experience you'd ever had.
Free trial for 14 days