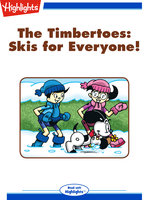 The Timbertoes: Skis for Everyone!
0.0
0
5
Author: Rich Wallace
.
Pa makes skis out of an old barrel and the whole family has fun whooshing down the hill.
Language: English
Category:

Children
Translator:
Always have a good book lined up - Listen and read whenever you want
Read and listen to as many books as you like! Download books offline, listen to several books continuously, choose stories for your kids, or try out a book that you didn't thought you would like to listen to. The best book experience you'd ever had.
Free trial for 14 days