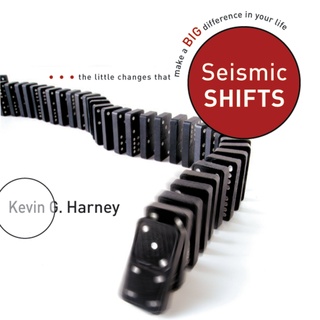 It's easy to talk about changing your life.Here's how to actually do it.If you long to experience transformation in the most significant areas of life, this book will become your road map. Seismic Shifts is about change—positive, quality change that can help you? experience deep and lasting joy ? engage in a growing and dynamic relationship with God ? feel healthy, rested, and peaceful ? build intimate relationships marked by honest communication ? attain financial security and contentment ? enjoy sharing your faith naturally and consistentlyBy making small adjustments in just the right places, you can set off a chain reaction that will redefine the landscape of your life. Dreams really do come true when you learn how to take little steps that make a big difference.Small changes can yield huge transformations in the most important areas of your life. My friend Kevin Harney shows you how in his inspiring and practical book. —Lee Strobel, author, The Case for Christ and The Case for a CreatorKevin Harney is both a gifted communicator and a seasoned pastor. Seismic Shifts will be a gift to individuals and churches alike.—John Ortberg, Teaching Pastor, Menlo Park Presbyterian Church and author of God Is Closer Than You Think and The Life You've Always WantedKevin Harney is totally on track with Seismic Shifts. With skillful pen, Kevin teaches us how to create powerful movement in our lives.—Randy Frazee, Teaching Pastor at Willow Creek Community Church and author of The Connecting Church and Making Room for Life
More information about the audiobook:
Always have a good book lined up - Listen and read whenever you want
Read and listen to as many books as you like! Download books offline, listen to several books continuously, choose stories for your kids, or try out a book that you didn't thought you would like to listen to. The best book experience you'd ever had.
Free trial for 14 days