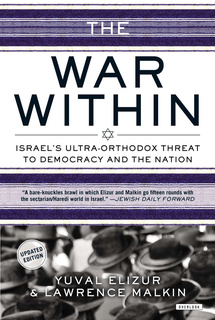 The War Within: Israel's Ultra-Orthodox Threat to Democracy and the Nation
The War Within: Israel's Ultra-Orthodox Threat to Democracy and the Nation
For many Israelis, it is the internecine conflict with the ultra-orthodox Haredim that impacts their lives the most. The majority of Haredim -- raised with an intense focus on religion at the expense of all else -- are unemployable in a modern economy. Many choose to pursue religious studies, which the government subsidizes up to the age of 40.

The first book on a conflict that is fast crystallizing into a national debate, The War Within is a lively and trenchant exploration of a battle between church and state as it plays out before our eyes in Israel today. As acclaimed journalists Yuval Elizur and Lawrence Malkin expose, the situation today has reached a critical point that threatens the state of Israel from within and must certainly affect its future.
More info about the ebook
Always have a good book lined up - Listen and read whenever you want
Read and listen to as many books as you like! Download books offline, listen to several books continuously, choose stories for your kids, or try out a book that you didn't thought you would like to listen to. The best book experience you'd ever had.
Free trial for 14 days