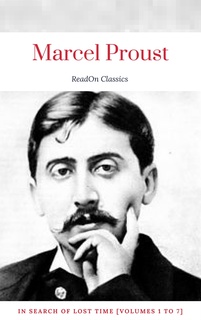 Marcel Proust: In Search of Lost Time [volumes 1 to 7] (ReadOn Classics)
Marcel Proust: In Search of Lost Time [volumes 1 to 7] (ReadOn Classics)
In Search of Lost Time (French: À la recherche du temps perdu)— previously also translated as Remembrance of Things Past, is a novel in seven volumes, written by Marcel Proust (1871–1922). It is considered to be his most prominent work, known both for its length and its theme of involuntary memory, the most famous example being the "episode of the madeleine" which occurs early in the first volume. It gained fame in English in translations by C. K. Scott Moncrieff and Terence Kilmartin as Remembrance of Things Past, but the title In Search of Lost Time, a literal rendering of the French, has gained usage since D. J. Enright adopted it for his revised translation published in 1992. The novel began to take shape in 1909. Proust continued to work on it until his final illness in the autumn of 1922 forced him to break off. Proust established the structure early on, but even after volumes were initially finished he kept adding new material and edited one volume after another for publication. The last three of the seven volumes contain oversights and fragmentary or unpolished passages, as they existed only in draft form at the death of the author; the publication of these parts was overseen by his brother Robert.
Повече информация за е-книгата
Ще имате добра книга под ръка навсякъде и по всяко време!
Четете и слушайте толкова книги, колкото пожелаете! Сваляйте книги за офлайн слушане, потопете се в различни истории едновременно, изберете книги за децата си или дайте шанс на заглавия, от които не сте се интересували преди. Време е да започнете нещо ново и вълнуващо, и да се потопите в света на добрите истории!
Пробвайте безплатно за 14 дни