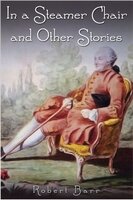 In a Steamer Chair and Other Stories
0.0
0
5
Forfatter: Robert Barr
Findes som e-bog.
A fantastic collection of thirteen witty short stories from the British-Canadian short story writer and novelist Robert Barr.
Sprog: Engelsk
Kategori:

Noveller
Oversætter:
Mere info om e-bogen:
Forlag: Andrews UK
Udgivet: 2012-06-19
ISBN: 9781781667323
Ha' altid en god bog i gang - lyt og læs når du vil
Lyt og læs så mange bøger, du vil! Lyt offline, ha' flere bøger i gang samtidigt, vælg godnathistorier til børnene og find din næste yndlingsbog. Med Storytel har du altid dit bibliotek i lommen!
Opret din konto her