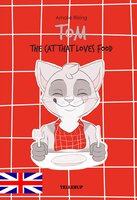 Tom - The Cat That Loves Food
3,87
61
5
Autor:

Amalie Riising
Libro electrónico.
Tom is a cat that loves any kind of food – except cat food.
Idioma: Inglés
Categoría:

Infantil
Traductor: Michael E.N. Larsen
Editorial: Tellerup.dk
Publicado: 2017-05-08
ISBN: 9788758827698
¡Escucha lo que quieras cuando quieras!
Una gran variedad de contenido para escuchar a tu manera. Descarga los audiolibros en tu móvil en modo sin conexión, cambia de título tantas veces como quieras, comparte un libro con tus amigos y encuentra tu momento Storytel.
Prueba gratuita de 14 días