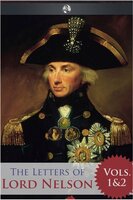 The Letters of Lord Nelson - Volumes 1 and 2
0.0
0
5
Autor: Horatio Nelson
Disponible como libro electrónico.
A collection of the personal letters of one of history's greatest military minds to his mistress Lady Hamilton.
Idioma: Inglés
Categoría:

Biografía
Traductor:
Editorial: Andrews UK
Publicado: 2012-06-18
ISBN: 9781781665725
Ten siempre un buen libro que escuchar y leer cuando y como quieras.
¡Leer y escuchar tantos libros como quieras! Descarga los audiolibros para escuchar en modo sin conexión, cambia tu selección cuantas veces lo desees, elige una historia para tus hijos o descubre libros que normalmente no escucharías. Es sencillamente la mejor experiencia literaria que puedes obtener en tu móvil.
Prueba gratuita de 14 días