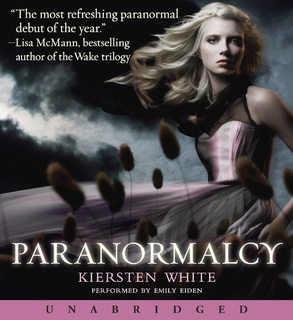 Paranormalcy
Formato:
Disponible como audiolibro
Paranormalcy
Formato:
Disponible como audiolibro
Discover the first book in a sparkling paranormal romance trilogy from Kiersten White, #1 New York Times bestselling author of And I Darken.

Evie's always thought of herself as a normal teenager, even though she works for the International Paranormal Containment Agency, her ex-boyfriend is a faerie, she's falling for a shape-shifter, and she's the only person who can see through supernatural glamours.

She's also about to find out that she may be at the center of a dark faerie prophecy promising destruction to all paranormal creatures.

So much for normal.
For fans of Teen Wolf, Buffy, and Supernatural, this New York Times bestseller is a witty, fresh, and downright fun read that will capture your heart.
¡Escucha lo que quieras cuando quieras!
Una gran variedad de contenido para escuchar a tu manera. Descarga los audiolibros en tu móvil en modo sin conexión, cambia de título tantas veces como quieras, comparte un libro con tus amigos y encuentra tu momento Storytel.
Prueba gratuita de 14 días