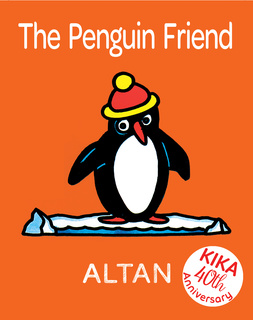 The Penguin Friend
Formato:
Libro electrónico
The Penguin Friend
Formato:
Libro electrónico
Penguin on Ice Skates
A happy little penguin is ready to play! On a cold, winter day, a little penguin gets ready to go ice skating. He puts on his hat and his gloves, laces on his skates and off he goes. This simple story for babies and toddlers is an adorable visit with a little penguin friend.
This book is part of the Kika's First Books series, created by Altan for his young child. Kika's First Books are celebrating their 40th anniversary with new publications in English after being loved in Italy for generations. These sweet little books make excellent read alouds for the youngest listeners. Kika's First Books explore common childhood themes and experiences and are lots of fun for little ones.
Xist Publishing is proud to present the Kika's First Books to a new generation of children. By bringing beloved stories from diverse cultures to new audiences, Xist Publishing celebrates childhood in all its beautiful forms. We hope your children will enjoy these stories and discover a lifetime love of reading and love for all the people and creatures of the world.
¡Escucha lo que quieras cuando quieras!
Una gran variedad de contenido para escuchar a tu manera. Descarga los audiolibros en tu móvil en modo sin conexión, cambia de título tantas veces como quieras, comparte un libro con tus amigos y encuentra tu momento Storytel.
Prueba gratuita de 14 días