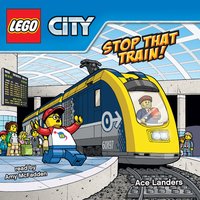 LEGO City: Stop That Train!
3,65
116
5
Autor:

Ace Landers
Narrador:

Amy McFadden
Audiolibro.
There's never a dull moment in LEGO(R) City!

This audio storybook features an adventure with the newest LEGO(R) City toy sets!
Idioma: Inglés
Categoría:

Infantil
Traductor:
Editorial: Scholastic
Publicado: 2018-09-25
Duración: 13M
ISBN: 9781338311143
¡Escucha lo que quieras cuando quieras!
Una gran variedad de contenido para escuchar a tu manera. Descarga los audiolibros en tu móvil en modo sin conexión, cambia de título tantas veces como quieras, comparte un libro con tus amigos y encuentra tu momento Storytel.
Prueba gratuita de 14 días