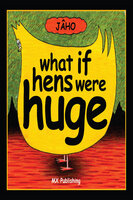 What if Hens Were Huge?
0.0
0
5
Kirjailija: JÂHO
Saatavilla e-kirjana.
Have you ever wondered what might happen if hens were huge? All the answers are in this book for children.
Kieli: Englanti
Kategoria:

Nuoret
Kääntäjä:
Lisätietoa e-kirjasta:
Julkaisija: Andrews UK
Julkaisuvuosi: 2012-05-09
ISBN: 9781780920634
Lue mitä, missä ja milloin haluat – täysin omilla ehdoillasi
Lue kuten haluat! Lataa rajattomasti kirjoja offline-tilaan, lueskele useampaa yhtä aikaa, valitse ihastuttavia tarinoita lapsille tai kokeile kirjaa, jota et tiennyt haluavasi kuunnella. Äänikirjat ja e-kirjat antavat lukemiselle uusia ulottuvuuksia.


Kokeile ilmaiseksi 14 päivää