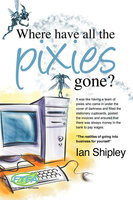 Where Have All the Pixies Gone?
0.0
0
5
Kirjailija: Ian Shipley
Saatavilla e-kirjana.
Think about all the tasks you will need to do when you are your own boss
Kieli: Englanti
Kategoria:

Talous & liike-elämä
Kääntäjä:
Lisätietoa e-kirjasta:
Julkaisija: Andrews UK
Julkaisuvuosi: 2012-06-27
ISBN: 9781782341048
Lue mitä, missä ja milloin haluat – täysin omilla ehdoillasi
Lue kuten haluat! Lataa rajattomasti kirjoja offline-tilaan, lueskele useampaa yhtä aikaa, valitse ihastuttavia tarinoita lapsille tai kokeile kirjaa, jota et tiennyt haluavasi kuunnella. Äänikirjat ja e-kirjat antavat lukemiselle uusia ulottuvuuksia.


Kokeile ilmaiseksi 14 päivää