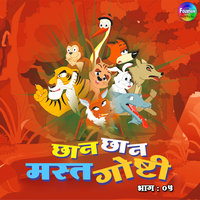 Chan Chan Mast Goshti Vol 5
3.588235294117647
51
5
Author: Various Authors
Narrator: Various Narrators
As audiobook.
Vol 5 has various short stories themed on wild animals with a wonderful message towards the end of the story
Language: Marathi
Category:

Children
Original name: छान छान मस्त गोष्टी Vol 5
Translator:
More information about the audiobook:
Publisher: Storyside IN
Published: 2017-10-03
Length: 42Min
ISBN: 9789352840014
Always have a good book lined up - Listen and read whenever you want
Read and listen to as many books as you like! Download books offline, listen to several books continuously, choose stories for your kids, or try out a book that you didn't thought you would like to listen to. The best book experience you'd ever had.
Free trial for 14 days