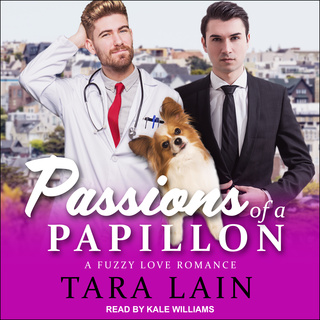 Passions of a Papillon: A Fuzzy Love Romance
Passions of a Papillon: A Fuzzy Love Romance
After you've sold your soul to the devil, can you renegotiate with a dog?

Brilliant defense attorney, Finn Morgenstern, knows the worst guys pay best, so defending slimeball, Rance Franklin, becomes his path to senior partner and a whole lot of benefits. But then a walk home to his pricey townhouse brings him face-to-ears with a batshit-crazy little dog who just won't leave him alone. So Finn takes the dog to the local veterinarian to find out how to get her back to her owners.

Hello vet! Emerson "Em" Fairweather sure doesn't match his stodgy name. Tall, platinum blond, and gorgeous, Em puts the pet in pet ownership. But Em has ugly secrets and Batshit dog is up to her ears in larceny. Suddenly Finn is the one who needs defending, and he's faced with a choice between what he thought was important and a whole new batshit-crazy life.

Contains mature themes.
More information about the audiobook:
Always have a good book lined up - Listen and read whenever you want
Read and listen to as many books as you like! Download books offline, listen to several books continuously, choose stories for your kids, or try out a book that you didn't thought you would like to listen to. The best book experience you'd ever had.
Free trial for 14 days