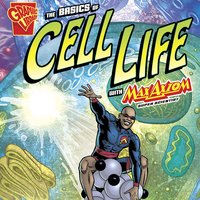 The Basics of Cell Life with Max Axiom, Super Scientist
0
0
5
Author:

Amber Keyser
Narrator:

Various narrators
Audiobook.
In graphic novel format, follows the adventures of Max Axiom as he explains the science behind plant and animal cells.
Language: English
Category:

Children
Translator:
More information about the audiobook:
Publisher: Capstone Press
Published: 2013-03-01
Length: 15Min
ISBN: 9781476580425
Always have a good book lined up - Listen and read whenever you want
Read and listen to as many books as you like! Download books offline, listen to several books continuously, choose stories for your kids, or try out a book that you didn't thought you would like to listen to. The best book experience you'd ever had.
Free trial for 14 days