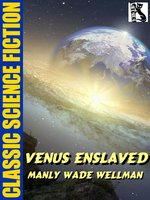 Venus Enslaved
0
0
5
Author:

Manly Wade Wellman
E-book.
What chance had the castaway Earthman and his crossbow-weaponed Amazons against the mighty Frogmasters of the Veiled Planet?
Language: English
Category:

Fantasy & SciFi
Translator:
More info about the ebook
Publisher: Wildside Press
Published: 2020-07-16
ISBN: 9781479451364
Stories make the world a better place - Listen and read whenever you want.
Read and listen to as many books as you like! There is no limit to how many and how much book you can listen to. Download books offline, choose stories for your kids, or try out a book that you didn't think you would like to listen to. Listen to your first audiobook!
Free trial for 14 days