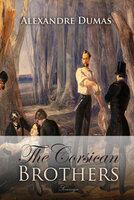 The Corsican Brothers
0
0
5
Author:

Alexandre Dumas
E-book.
The story of two conjoined brothers who, though separated at birth, can still feel each other's pains.
Language: English
Category:

Classics
Series: World Classics: 1
Original title: The Corsican Brothers
Translator:
More info about the ebook
Publisher: Interactive Media
Published: 2014-08-15
ISBN: 9781910343869
Always have a good book lined up - Listen and read whenever you want
Read and listen to as many books as you like! Download books offline, listen to several books continuously, choose stories for your kids, or try out a book that you didn't thought you would like to listen to. The best book experience you'd ever had.
Free trial for 14 days