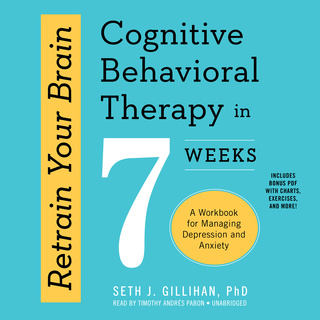 For many, cognitive behavioral therapy (CBT) has proved to be a tipping point, a treatment through which they are finally able to make significant changes and break free of anxiety and depression. Cognitive Behavioral Therapy in 7 Weeks is an interactive audio workbook that outlines a simple, practical plan that occurs over the course of seven weeks, and offers real, tangible relief from anxiety and depression. This is a cumulative workbook—the work you do each week builds upon that of the last and, ultimately, creates a lasting CBT tool kit that will prepare you to handle future challenges as they come.

In his private practice, licensed psychologist Dr. Seth Gillihan specializes in the use of cognitive-behavioral treatment for anxiety and depression. He concentrates on the specific needs of each patient by using the evidence-based, solution-focused treatment principles of CBT—the fundamentals of which are at the core of Cognitive Behavioral Therapy in 7 Weeks.

With Cognitive Behavioral Therapy in 7 Weeks you will
become familiar with the basic principles of CBT and understand how it works,define specific goals that you'll work toward over the course of seven weeks, andlearn fundamental CBT skills through guided writing exercises that apply to your current, real-life challenges.
Cognitive Behavioral Therapy in 7 Weeks is the most comprehensive yet efficient workbook available for using CBT to address anxiety and depression.
More information about the audiobook:
Always have a good book lined up - Listen and read whenever you want
Read and listen to as many books as you like! Download books offline, listen to several books continuously, choose stories for your kids, or try out a book that you didn't thought you would like to listen to. The best book experience you'd ever had.
Free trial for 14 days