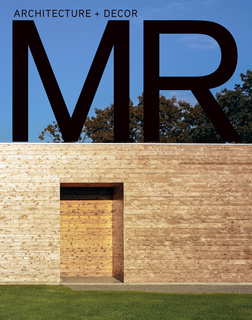 MR Architecture Decor's work—which, true to its name, straddles the line between architecture and interior design—is driven by the belief that close collaborations with clients lead to personalized and intimate homes. The first collection of the firm's 20 years of work includes a brief history of the firm, founded by David Mann. Featuring seven never-before-seen projects, the text not only describes each project but also includes two distinct points of view: that of MR Architecture Decor and that of the client or collaborator. More than 200 appealing photographs of some of the firm's gorgeous residential work are included, taken by such leading architecture and interior design photographers as François Dischinger, Eric Piasecki, Simon Upton, and Joshua McHugh.

MR Architecture Decor celebrates an architecture and design firm whose variety and depth of work, from Takashimaya, the legendary department store on Fifth Avenue, to log cabins in Montana, demonstrates the power of creativity and collaboration.
More info about the ebook
Always have a good book lined up - Listen and read whenever you want
Read and listen to as many books as you like! Download books offline, listen to several books continuously, choose stories for your kids, or try out a book that you didn't thought you would like to listen to. The best book experience you'd ever had.
Free trial for 14 days