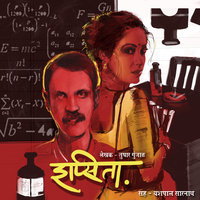 Ipsita S1E3
4.0
18
5
Author: Tushar Gunjal
Narrator: Yashpal
As audiobook.
As e-book.
I am not attracted to you - या वाक्याने सगळ्या फॅन्टसीचा आणि डेसपरिसीचा चक्काचूर झाला. प्रदीपची सगळी स्वप्न धुळीस मिळाली.
Language: Marathi
Category:

Fiction
Series: Ipsita: 3
Translator:
More information about the audiobook:
Publisher: Storytel Original IN
Published: 2018-06-13
Length: 53Min
ISBN: 9789352848492
Always have a good book lined up - Listen and read whenever you want
Read and listen to as many books as you like! Download books offline, listen to several books continuously, choose stories for your kids, or try out a book that you didn't thought you would like to listen to. The best book experience you'd ever had.
Free trial for 14 days