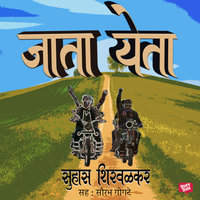 Jata Yeta
3.903225806451613
31
5
Author: Suhas Shirvalkar
Narrator: Saurabh Gogate
As audiobook.
पावसाळ्यात काढलेले लोणावळ्याची गाड्यांवरची ट्रिप..... निसर्गाचा आनंदघ्या आणि ऐका 'जात-येता'.
Language: Marathi
Category:

Fiction
Translator:
More information about the audiobook:
Publisher: Storyside IN
Published: 2018-10-16
Length: 4H 59Min
ISBN: 9789352849505
Always have a good book lined up - Listen and read whenever you want
Read and listen to as many books as you like! Download books offline, listen to several books continuously, choose stories for your kids, or try out a book that you didn't thought you would like to listen to. The best book experience you'd ever had.
Free trial for 14 days