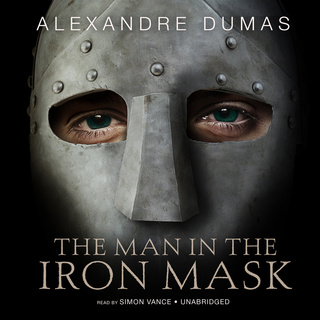 The Man in the Iron Mask
Format:
As audiobook & As e-book
The Man in the Iron Mask
Format:
As audiobook & As e-book
Thirty-five years after the events of The Three Musketeers, D'Artagnan, Athos, Porthos, and Aramis find themselves caught between conflicting loyalties in a power struggle that could change the face of the French monarchy.

For eight long years, a young prisoner has languished within the dreaded Bastille, his face hidden in an iron mask. He knows neither his true identity nor the crime for which he has been imprisoned. But Aramis knows this secret—a secret so dangerous, it could topple the King from his throne. Will his cause divide the once indivisible band of musketeers?

A tale of mystery, adventure, and political intrigue, this conclusion to Dumas's swashbuckling musketeer saga is based on the true story of a masked prisoner who dwelled in the Bastille during Louis XIV's reign and whose identity remains in question to this day.
More information about the audiobook:
More info about the ebook
Always have a good book lined up - Listen and read whenever you want
Read and listen to as many books as you like! Download books offline, listen to several books continuously, choose stories for your kids, or try out a book that you didn't thought you would like to listen to. The best book experience you'd ever had.
Free trial for 14 days