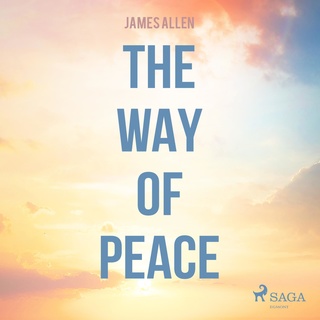 The Way of Peace is a New Thought book written by James Allen. Although Allen is more widely known for his As a Man Thinketh, it is the lesser known The Way of Peace (1907) which reflects more accurately his New Thought Movement affiliations, referencing as it does Christianity, Buddhism and Hinduism. The book is essentially a treatise on the importance of meditation as a 'pathway to divinity'. Whatever we meditate upon, Allen explains, we become. If you meditate upon ' that which is selfish and debasing, you will ultimately become selfish and debased'. Whereas if you meditate upon ' that which is pure and unselfish you will surely become pure and unselfish'. It is now in the public domain within the United States and most other countries. It has been released as a Project Gutenberg eText edition. The book consists of 7 chapters: The Power Of Meditation; The Two Masters, Self And Truth; The Acquirement of Spiritual Power; The Realisation of Selfless Love; Entering into the Infinite; Saints, Sages, And Saviors, The Law Of Service; and The Realisation of Perfect Peace. The first chapter also contains a poem, Star of Wisdom, which captures the essence of the book.
Meiri upplýsingar um hljóðbókina:
Hafðu alltaf góða bók við höndina - hlustaðu og lestu hvar og hvenær sem er
Lestu og hlustaðu á eins margar bækur og þú vilt! Vistaðu bækurnar á tækið fyrir ferðalögin, hlustaðu til skiptis á aðrar bækur, veldu sögur fyrir börnin þín og finndu næstu uppáhalds bókina þína. Með Storytel ertu ávallt með heilt bókasafn í vasanum.
Prófaðu frítt í 14 daga