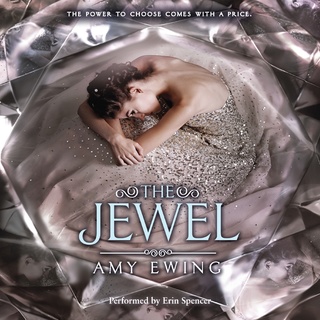 New York Times bestselling author Amy Ewing delivers a dark and riveting tale that "will have fans of Oliver's Delirium, Cass's The Selection, and DeStefano's Wither breathless."*

The Jewel has many meanings: wealth, beauty, royalty. But for Violet, the Jewel has always meant servitude.

Born and raised in the Marsh, Violet is destined for the Jewel. She is trained as a surrogate for the elite and is bought by the Duchess of the Lake at auction. And she quickly learns that beneath the Jewel's glittering façade lies the cruelty, backstabbing, and hidden violence that have become the royal way of life.

Violet must accept the ugly realities of her life...all while fighting for her survival. But before she can accept her fate, Violet meets a handsome boy who is also under the Duchess's control. A forbidden love sparks.

But their illicit affair has consequences, which will cost them both more than they bargained for. And toeing the line between being calculating and rebellious, Violet must decide what, and who, she is willing to risk for her own freedom.

*BCCB
Meiri upplýsingar um hljóðbókina:
Hafðu alltaf góða bók við höndina - hlustaðu og lestu hvar og hvenær sem er
Lestu og hlustaðu á eins margar bækur og þú vilt! Vistaðu bækurnar á tækið fyrir ferðalögin, hlustaðu til skiptis á aðrar bækur, veldu sögur fyrir börnin þín og finndu næstu uppáhalds bókina þína. Með Storytel ertu ávallt með heilt bókasafn í vasanum.
Prófaðu frítt í 14 daga