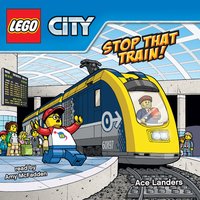 LEGO City: Stop That Train!
3,65
100
5
Höfundur:

Ace Landers
Lesari:

Amy McFadden
Sem hljóðbók.
There's never a dull moment in LEGO(R) City!

This audio storybook features an adventure with the newest LEGO(R) City toy sets!
Tungumál: enska
Flokkur:

Barnabækur
Þýðandi:
Meiri upplýsingar um hljóðbókina:
Útgefandi: Scholastic
Útgefið: 2018-09-25
Lengd: 13Mín
ISBN: 9781338311143
Hafðu alltaf góða bók við höndina - hlustaðu og lestu hvar og hvenær sem er
Lestu og hlustaðu á eins margar bækur og þú vilt! Vistaðu bækurnar á tækið fyrir ferðalögin, hlustaðu til skiptis á aðrar bækur, veldu sögur fyrir börnin þín og finndu næstu uppáhalds bókina þína. Með Storytel ertu ávallt með heilt bókasafn í vasanum.
Prófaðu frítt í 14 daga