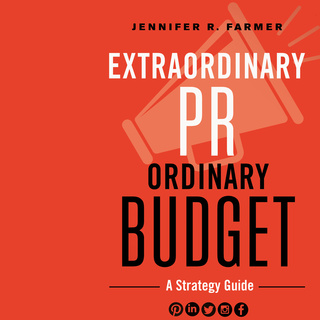 Extraordinary PR, Ordinary Budget
Extraordinary PR, Ordinary Budget
Low Cost, High Impact!

Public relations is a make-or-break factor for all organizations, especially those that are small or mission driven. While it can be tempting to think that PR is a luxury only larger organizations can afford, PR expert Jennifer R. Farmer shows how her CCRR framework—being credible, creative, responsive, and relentless—is the silver bullet for even cash-strapped organizations.

Farmer emphasizes that effective public relations is in fact an essential component of organizational development—people need to know about you for your organization to have maximum impact. Her CCRR framework leverages tools everyone has access to, from social media to brand transparency, and requires attentiveness more than money. Farmer shows you that, no matter how modest your budget, you can build a cost-effective communications strategy that will help you break through the noise in an information-overloaded world.
Meiri upplýsingar um hljóðbókina:
Hafðu alltaf góða bók við höndina - hlustaðu og lestu hvar og hvenær sem er
Lestu og hlustaðu á eins margar bækur og þú vilt! Vistaðu bækurnar á tækið fyrir ferðalögin, hlustaðu til skiptis á aðrar bækur, veldu sögur fyrir börnin þín og finndu næstu uppáhalds bókina þína. Með Storytel ertu ávallt með heilt bókasafn í vasanum.
Prófaðu frítt í 14 daga