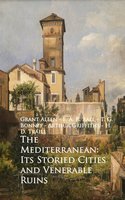 The Mediterranean: Its Storied Cities and Venerab
3
1
5
Höfundur:

Grant Allen, Arthur Griffiths, Robert Brown, T. G. Bonney, E. A. R. Ball, H. D. Traill
Rafbók.
THE PILLARS OF HERCULES,
ALGIERS,
MALAGA,
BARCELONA,
MARSEILLES,
NICE,
THE RIVIERA,
GENOA,
THE TUSCAN COAST,
VENICE,
ALEXANDRIA,
MALTA,
SICILY,
NAPLES,
Tungumál: enska
Flokkur:

Saga
Þýðandi:
Meiri upplýsingar um rafbókina
Útgefandi: anboco
Útgefið: 2016-08-15
ISBN: 9783736410572
Hafðu alltaf góða bók við höndina - hlustaðu og lestu hvar og hvenær sem er
Lestu og hlustaðu á eins margar bækur og þú vilt! Vistaðu bækurnar á tækið fyrir ferðalögin, hlustaðu til skiptis á aðrar bækur, veldu sögur fyrir börnin þín og finndu næstu uppáhalds bókina þína. Með Storytel ertu ávallt með heilt bókasafn í vasanum.
Prófaðu frítt í 7 daga