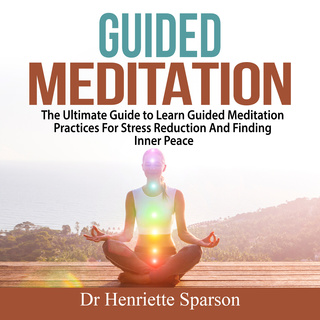 Guided Meditation: The Ultimate Guide to Learn Guided Meditation Practices For Stress Reduction And Finding Inner Peace
Guided Meditation: The Ultimate Guide to Learn Guided Meditation Practices For Stress Reduction And Finding Inner Peace
"Within you there is a stillness and a sanctuary to which you can retreat at any time and be yourself"
~Hermann Hesse

Meditation is therapy for the soul. Through simple to learn techniques a person can master the art of peace and tranquility. Its powerful influence has the means to change one's life. Its simple to understand and can be practiced in any environment.

Stress is one of the leading contributors to serious health conditions. Mediation is an outlet for a person to release those negative thoughts and feelings into the universe. Inner peace results in greater happiness and joy.

It's time for you to take control of your life. Remove those negative, destructive thought patterns that is robbing you of all the joy that you deserve. Let meditation become your salvation that will give you back you inner peace and tranquility.
Meiri upplýsingar um hljóðbókina:
Hafðu alltaf góða bók við höndina - hlustaðu og lestu hvar og hvenær sem er
Lestu og hlustaðu á eins margar bækur og þú vilt! Vistaðu bækurnar á tækið fyrir ferðalögin, hlustaðu til skiptis á aðrar bækur, veldu sögur fyrir börnin þín og finndu næstu uppáhalds bókina þína. Með Storytel ertu ávallt með heilt bókasafn í vasanum.
Prófaðu frítt í 14 daga