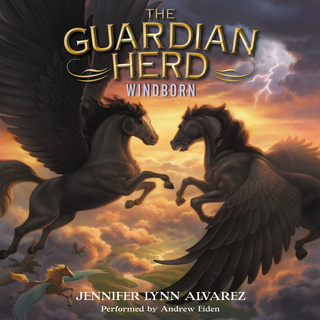 The Guardian Herd: Windborn
The Guardian Herd: Windborn
Perfect for fans of the Warriors and the Guardians of Ga'Hoole series, the action-packed fourth and final book in this first arc of the Guardian Herd series follows Star and his nemesis, Nightwing, as they face off in an epic battle that will end everything.

Star and his friends have been through constant struggle, and now Star faces his toughest, most deadly challenge yet. Nightwing the Destroyer has captured all the pegasi of Anok, including Star's friends. And when Star learns of Nightwing's deadly plan for the captured herd, he knows the time has come to fight.

With no one to turn to but his enemy Frostfire, Star searches Anok with Frostfire to track down Nightwing. And as a violent storm approaches, Star and Nightwing face off amid quaking lands, dangerous winds, and blazing fires, in a battle to end all battles—and one that will determine the fate of all the pegasi in Anok.
Meiri upplýsingar um hljóðbókina:
Hafðu alltaf góða bók við höndina - hlustaðu og lestu hvar og hvenær sem er
Lestu og hlustaðu á eins margar bækur og þú vilt! Vistaðu bækurnar á tækið fyrir ferðalögin, hlustaðu til skiptis á aðrar bækur, veldu sögur fyrir börnin þín og finndu næstu uppáhalds bókina þína. Með Storytel ertu ávallt með heilt bókasafn í vasanum.
Prófaðu frítt í 14 daga