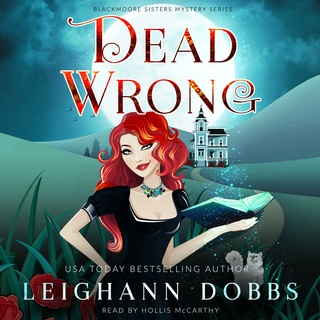 **** WINNER Best Mystery Romance - 2014 Indie Romance Convention Awards ****

There's more than one secret in the old Blackmoore house. Some have been buried for a long time and some are sitting closer to the surface.

Morgan and Fiona Blackmoore enjoy their simple life in the sleepy ocean-side town of Noquitt Maine where they offer herbal remedies and crystal healing for locals and tourists alike.

...Until Morgan is accused of killing the town shrew, Prudence Littlefield.

Suddenly the girls find themselves scrambling to find the real killer while they battle a crooked Sheriff, planted evidence, and a long list of suspects that all had a reason to want Prudence dead.

Handsome Jake Cooper is new to the Noquitt Maine police force, which is exactly why Fiona Blackmoore doesn't trust him. But with time running out and the evidence against her sister piling up, Fiona has to make a choice - will she trust Jake with her sister's case...and her own heart?

Add in an old mansion on the cliffs of Maine, an attic full of mysterious treasures, and a cat that has the uncanny ability to show up at exactly the right time and Fiona has her hands full proving the Sheriff's accusations about her sister being a murderer are Dead Wrong.

This is book 1 in the Blackmoore Sisters Cozy Mystery Series.
Meiri upplýsingar um hljóðbókina:
Hafðu alltaf góða bók við höndina - hlustaðu og lestu hvar og hvenær sem er
Lestu og hlustaðu á eins margar bækur og þú vilt! Vistaðu bækurnar á tækið fyrir ferðalögin, hlustaðu til skiptis á aðrar bækur, veldu sögur fyrir börnin þín og finndu næstu uppáhalds bókina þína. Með Storytel ertu ávallt með heilt bókasafn í vasanum.
Prófaðu frítt í 14 daga