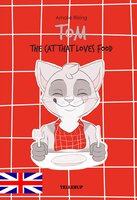 Tom - The Cat That Loves Food
3,85
60
5
Scritto da:

Amalie Riising
Disponibile in formato ebook.
Tom is a cat that loves any kind of food – except cat food.
Lingua: Inglese
Categoria:

Bambini
Traduttore: Michael E.N. Larsen
Più informazioni
Editore: Tellerup.dk
Pubblicato: 2017-05-08
ISBN: 9788758827698
Come funziona?
1) Crea un account qui sul sito web

2) Attiva la prova gratuita

3) Scarica l'app

4) Inserisci le tue credenziali e accedi all'app

5) Inizia ad ascoltare!
Prova gratis per 14 giorni