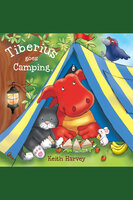 Tiberius Goes Camping
0.0
0
5
Autore: Keith Harvey
Disponibile in formato ebook.
Tiberius and his friends investigate a strange noise, which leads to a very spooky night-time adventure!
Lingua: Inglese
Categoria:

Young Adult
Serie: Tiberius: 12
Traduttore:
Più informazioni
Editore: Andrews UK
Pubblicato: 2012-04-26
ISBN: 9781902604817
Tieni sempre pronto un buon audiolibro da ascoltare ovunque tu sia
Ascolta tutti gli audiolibri che vuoi, dove vuoi, quando vuoi - senza limiti. Scarica i tuoi audiolibri in modalità offline, ascolta più di un audiolibro alla volta, scopri nuove storie per i tuoi figli o trovane di nuove per te!
Prova Storytel!
Prova ora gratis per 14 giorni