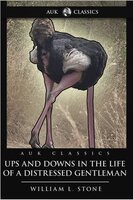 Ups and Downs in the Life of a Distressed Gentleman
0.0
0
5
Autore: William L. Stone
Disponibile in formato ebook.
A funny and weird biography of 'Mr Daniel Wheelwright' by the 'author of Tales and Sketches, Such as They Are'.
Lingua: Inglese
Categoria:

Narrativa
Traduttore:
Più informazioni
Editore: Andrews UK
Pubblicato: 2012-06-22
ISBN: 9781781669976
Tieni sempre pronto un buon audiolibro da ascoltare ovunque tu sia
Ascolta tutti gli audiolibri che vuoi, dove vuoi, quando vuoi - senza limiti. Scarica i tuoi audiolibri in modalità offline, ascolta più di un audiolibro alla volta, scopri nuove storie per i tuoi figli o trovane di nuove per te!
Prova Storytel!
Prova ora gratis per 14 giorni