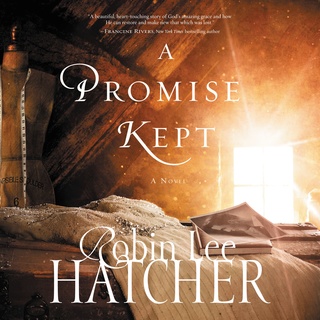 Allison was sure God would save her marriage and her husband—but neither has been saved yet. What has become of the promise Allison once believed in?

Tony Kavanagh had been Allison's dream-come-true. They were in love within days, engaged within weeks, married and pregnant within a year. Her cup bubbled over with joy … but years later, that joy was extinguished by unexpected trials.

The day Allison issued her husband an ultimatum, she thought it might save him. She never expected he would actually leave. She was certain God had promised healing—but it became clear she'd misunderstood.

Now, living in the quiet mountain cabin she inherited from her Great Aunt Emma, Allison must come to terms with her grief and figure out how to adapt to small-town life. But when she finds a wedding dress and a collection of journals in Emma's attic, a portrait of her aunt emerges that takes Allison completely by surprise: a portrait of a heartbroken woman surprisingly like herself.

As Allison reads the incredible story of Emma's life in the 1920s and 1930s, she is forced to ask a difficult question: Has she really surrendered every piece of her life to the Lord?

Drawing from her own heart-wrenching story of redemption, A Promise Kept is Robin Lee Hatcher's emotionally charged thanksgiving to a God who answers prayers—in His own time and His own ways.

"A beautiful, heart-touching story of God's amazing grace and how He can restore and make new that which was lost." — Francine Rivers, New York Times bestselling author

Sweet inspirational romance
Full-length stand-alone novel
Includes discussion questions for book clubs and a note to readers from the author
Come funziona?
1) Crea un account qui sul sito web

2) Attiva la prova gratuita

3) Scarica l'app

4) Inserisci le tue credenziali e accedi all'app

5) Inizia ad ascoltare!
Prova gratis per 14 giorni