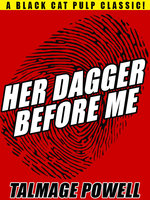 Her Dagger Before Me
0
0
5
Scritto da:

Talmage Powell
E-book.
A classic crime story originally published in the July, 1949 issue of Black Mask.
Lingua: Inglese
Categoria:

Gialli
Traduttore:
Più informazioni
Editore: Wildside Press
Pubblicato: 2018-05-22
ISBN: 9781479416882
Come funziona?
1) Crea un account qui sul sito web

2) Attiva la prova gratuita

3) Scarica l'app

4) Inserisci le tue credenziali e accedi all'app

5) Inizia ad ascoltare!
Prova gratis per 14 giorni