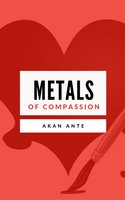 Metals of Compassion
0
0
5
Scritto da:

Akan Ante
E-book.
'Metals of Compassion' is a collection of short stories with love for humanity as its theme.
Lingua: Inglese
Categoria:

Racconti brevi
Traduttore:
Come funziona?
1) Crea un account qui sul sito web

2) Attiva la prova gratuita

3) Scarica l'app

4) Inserisci le tue credenziali e accedi all'app

5) Inizia ad ascoltare!
Prova gratis per 14 giorni