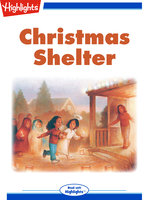 Christmas Shelter
0.0
0
5
Scritto da:

Beth Thompson
Disponibile in formato ebook.
Lisha goes to Cielo's posada party and learns a new and better meaning for shelter.
Lingua: Inglese
Categoria:

Bambini
Traduttore:
Come funziona?
1) Crea un account qui sul sito web

2) Attiva la prova gratuita

3) Scarica l'app

4) Inserisci le tue credenziali e accedi all'app

5) Inizia ad ascoltare!
Prova gratis per 14 giorni