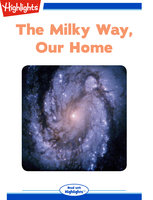 The Milky Way Our Home
1.0
1
5
Scritto da:

Tony Helies
Disponibile in formato ebook.
How do scientists know that our galaxy is a pinwheel of stars?
Lingua: Inglese
Categoria:

Bambini
Traduttore:
Come funziona?
1) Crea un account qui sul sito web

2) Attiva la prova gratuita

3) Scarica l'app

4) Inserisci le tue credenziali e accedi all'app

5) Inizia ad ascoltare!
Prova gratis per 14 giorni