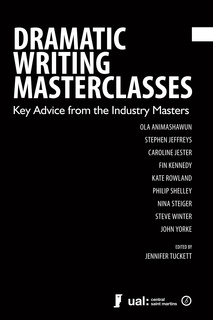 Dramatic Writing Masterclasses: Key Advice from the Industry Masters
Dramatic Writing Masterclasses: Key Advice from the Industry Masters
Dramatic Writing Masterclasses: Key Advice from the Industry Masters brings together the advice of the professionals who have led the way in dramatic writing training in the UK. Including

Ola Animashawun, founder of the Royal Court Theatre's Young Writers Programme

Stephen Jeffreys, Literary Associate at the Royal Court Theatre for eleven years and creator of Masterclasses which have led the way in Playwriting training in the UK

Caroline Jester, who has been Dramaturg at Birmingham Repertory Theatre, co-author of the book Playwriting Across the Curriculum and has pioneered collaborative and digital playwriting programmes worldwide

Fin Kennedy, winner of the first Fringe First award ever awarded to a schools production and co-Artistic Director of Tamasha Theatre Company

Kate Ro wland, founder of BBC Writersroom

Philip Shelley, instigator of the Channel 4 screenwriting course

Nina Steiger, Associate Director at the Soho Theatre

Jennifer Tuckett, Course Leader for Drama Centre London at Central Saint Martins' new MA Dramatic Writing Course

Steve Winter, Director of the Kevin Spacey Foundation and co-creator of the Old Vic New Voices 24 Hour Plays and TS Eliot US/UK Exchange

John Yo rke, creator of the BBC Writers Academy and former Head of Channel 4 Drama and Controller of BBC Drama Production

Suitable for writers, students, teachers, the industry and anyone with an interest in dramatic writing, the book offers key advice on writing for theatre, film, television, radio and digital media.
Come funziona?
1) Crea un account qui sul sito web

2) Attiva la prova gratuita

3) Scarica l'app

4) Inserisci le tue credenziali e accedi all'app

5) Inizia ad ascoltare!
Prova gratis per 14 giorni