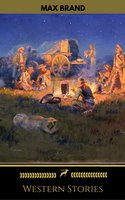 Max Brand: Western Stories (Golden Deer Classics)
0
0
5
Scritto da:

Max Brand, Golden Deer Classics
E-book.
CONTENTS:

Harrigan
Riders of the Silences
The Untamed
The Night Horseman
Gunman's Reckoning
Ronicky Doone
The Seventh Man
Alcatraz
Black Jack
The Rangeland Avenger
Lingua: Inglese
Categoria:

Classici
Traduttore:
Più informazioni
Editore: Oregan Publishing
Pubblicato: 2017-05-06
ISBN: 9782377870288
Come funziona?
1) Crea un account qui sul sito web

2) Attiva la prova gratuita

3) Scarica l'app

4) Inserisci le tue credenziali e accedi all'app

5) Inizia ad ascoltare!
Prova gratis per 14 giorni