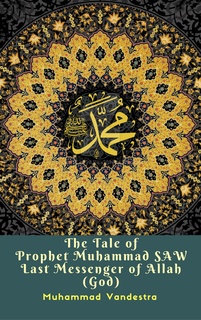 The Tale of Prophet Muhammad SAW Last Messenger of Allah (God)
The Tale of Prophet Muhammad SAW Last Messenger of Allah (God)
Prophet Muhammad SAW from Mecca, unified Arabia into a single religious polity under Islam faith. Believed by Muslims to be a prophet and messenger of Allah SWT (God), Muhammad is almost universally considered by Muslims as the last prophet sent by God to mankind. While non-Muslims generally regard Muhammad as the founder of Islam, Muslims consider him to have restored the unaltered original monotheistic faith of Prophet Abraham, Prophet Moses, Prophet Jesus and other prophets.

Born approximately in 570 CE in the Arabian city of Mecca, Prophet Muhammad SAW was orphaned at an early age; he was raised under the care of his paternal uncle Abu Talib. After his childhood Muhammad primarily worked as a merchant.

Occasionally he would retreat to a cave in the mountains for several nights of seclusion and prayer; later, at age 40, he reported at this spot, that he was visited by Angel Gabriel and received his first revelation from Allah SWT (God). Three years after this event Prophet Muhammad SAW started preaching these revelations publicly, proclaiming that "God is One".
Come funziona?
1) Crea un account qui sul sito web

2) Attiva la prova gratuita

3) Scarica l'app

4) Inserisci le tue credenziali e accedi all'app

5) Inizia ad ascoltare!
Prova gratis per 14 giorni