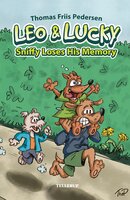 Leo & Lucky: Sniffy Loses His Memory
5
2
5
Scritto da:

Thomas Friis Pedersen
Disponibile in formato ebook.
Sniffy has something important to do, but he does not remember what it is. Can Leo and Lucky help him?
Lingua: Inglese
Categoria:

Bambini
Serie: Leo & Lucky: 3
Traduttore: Michael E.N. Larsen
Più informazioni
Editore: Tellerup.dk
Pubblicato: 2020-01-01
ISBN: 9788758835587
Come funziona?
1) Crea un account qui sul sito web

2) Attiva la prova gratuita

3) Scarica l'app

4) Inserisci le tue credenziali e accedi all'app

5) Inizia ad ascoltare!
Prova gratis per 14 giorni