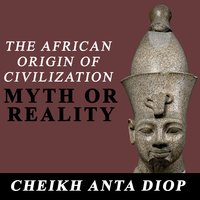 African Origin of Civilization, The: Myth or Reality
0
0
5
Autor:

Cheikh Anta Diop
Narrador:

Frank Block
Audiolibro.
This classic presents historical, archaeological, and anthropological evidence to support the theory that ancient Egypt was a black civilization.
Idioma: Inglés
Categoría:

Historia
Traductor:
Editorial: HN Publishing
Publicado: 2020-02-05
Duración: 9H 54M
ISBN: 9781987137972
Ten siempre un buen libro para escuchar o leer cuando y como quieras.
¡Lee y escucha tantos libros como quieras! Descarga los audiolibros para escuchar completos en modo sin conexión, cambia tu selección cuantas veces lo desees, elige una historia para tus hijos o descubre libros que normalmente no escucharías. Storytel es la mejor experiencia de lectura que puedes tener.
Descarga la app y prueba Storytel gratis.
Prueba gratis 14 días