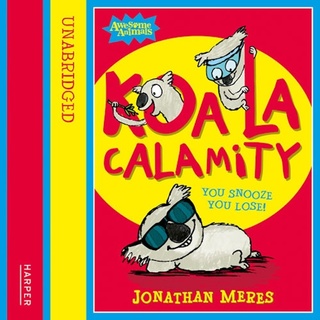 Koala Calamity
Formato:
Disponible como audiolibro
Koala Calamity
Formato:
Disponible como audiolibro
The fifth animal in the hilarious AWESOME ANIMALS series – awesome adventures with the wildest wildlife.

From the author of the hilarious WORLD OF NORM series comes the first of two crazy koala capers.

You might think that koalas are boring, just because all they do is eat eucalyptus leaves and sleep. For 19 hours a day. But you'd be wrong. They're not boring. They're just LAZY. They're chilling, basically, kicking back and catching some rays in the treetops, and staying out of trouble.

At least, that's what our cool koala buddies Dude and Bro, and little brother Squirt WERE doing, till one day they wake up to find they've missed their transfer from the koala sanctuary to the zoo across town, and will now have to find their own way there before Mum and Dad find out they're missing.

Can they make it across town in their stolen zoo buggy or will the day end in one great big koala calamity?
Ten siempre un buen libro para escuchar o leer cuando y como quieras.
¡Lee y escucha tantos libros como quieras! Descarga los audiolibros para escuchar completos en modo sin conexión, cambia tu selección cuantas veces lo desees, elige una historia para tus hijos o descubre libros que normalmente no escucharías. Storytel es la mejor experiencia de lectura que puedes tener.
Descarga la app y prueba Storytel gratis.
Prueba gratis 14 días