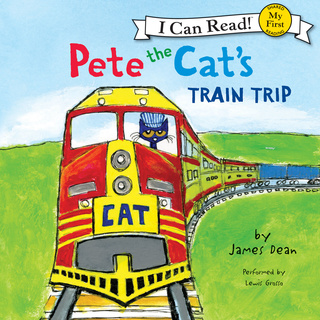 Pete the Cat's Train Trip
Pete the Cat's Train Trip
New York Times bestselling author and artist James Dean brings young readers along on a groovy train ride with Pete the Cat!

Pete can't wait to visit Grandma, especially because he gets to take a train ride to see her! The conductor gives Pete a tour of the train, and Pete gets to see the engine and honk the horn. Pete even makes new friends and plays games on board. What a cool ride!

Pete the Cat's Train Trip is a My First I Can Read Book, which means it's perfect for shared reading with a child. Fans of Pete the Cat will delight as Pete takes the grooviest train trip in this hilarious I Can Read adventure.
Ten siempre un buen libro para escuchar o leer cuando y como quieras.
¡Lee y escucha tantos libros como quieras! Descarga los audiolibros para escuchar completos en modo sin conexión, cambia tu selección cuantas veces lo desees, elige una historia para tus hijos o descubre libros que normalmente no escucharías. Storytel es la mejor experiencia de lectura que puedes tener.
Descarga la app y prueba Storytel gratis.
Prueba gratis 14 días