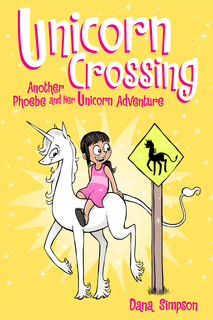 Unicorn Crossing
Formato:
Disponible como libro electrónico
Unicorn Crossing
Formato:
Disponible como libro electrónico
Time flies in this fifth volume of Dana Simpson's Phoebe and Her Unicorn! Follow the lovable duo as they experience somewhat-spooky Halloween parties, ecstatic snow days, and looming summer reading assignments.

Although the journey of growing up can sometimes be difficult, along the way Phoebe and Marigold discover something more enduring than goblin fads, unicorn spa vacations, and even a Spell of Forgetting—their one of a kind friendship.
Ten siempre un buen libro para escuchar o leer cuando y como quieras.
¡Lee y escucha tantos libros como quieras! Descarga los audiolibros para escuchar completos en modo sin conexión, cambia tu selección cuantas veces lo desees, elige una historia para tus hijos o descubre libros que normalmente no escucharías. Storytel es la mejor experiencia de lectura que puedes tener.
Descarga la app y prueba Storytel gratis.
Prueba gratis 14 días