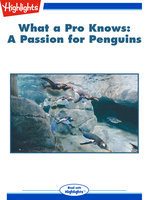 What a Pro Knows: Amy Graves: A Passion for Penguins
2.5
4
5
Autor:

Mary Paulson
Disponible como libro electrónico.
Learn about a day in the life of an aviculturist (someone who works with birds) at the Tennessee Aquarium.
Idioma: Inglés
Categoría:

Infantil
Traductor:
Ten siempre un buen libro para escuchar o leer cuando y como quieras.
¡Lee y escucha tantos libros como quieras! Descarga los audiolibros para escuchar completos en modo sin conexión, cambia tu selección cuantas veces lo desees, elige una historia para tus hijos o descubre libros que normalmente no escucharías. Storytel es la mejor experiencia de lectura que puedes tener.
Descarga la app y prueba Storytel gratis.
Prueba gratis 14 días